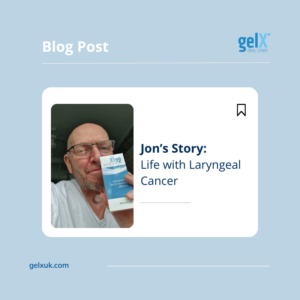 My name is Jon Organ and I live in South London, England. I have 4 grown up children and 11 grandchildren. I have worked in construction my whole life and, for the past 7 years, I have run my own business as a consultant advising on construction and Health and Safety.
Around 2 years ago, I had been having issues for many months with my pancreas. I attended a PET scan to check for pancreatic cancer. It was negative thankfully, however what the scan did show was upper right lobe emphysema, and I was prescribed steroid inhalers. I just thought we all breathed a bit too hard!
Diagnosis
Soon after starting the inhalers, I developed a hoarse voice. While at a check-up appointment, the breathing team told me it was a side effect of the inhalers and gave me an inhaler spacer to help with this. The hoarse voice stayed and gradually got worse until I could only whisper, and I went back to the doctors who put me on the 'two week rule', where you have to be seen by a specialist as quickly as possible.
On the 16th November 2022, I attended a clinic where I was immediately diagnosed with laryngeal cancer (cancer of the voice box). A whole host of scans and tests followed soon after, I was diagnosed with stage 4, and by that point the cancer was now also in the thyroid gland. A total laryngectomy was the only course of action with 84 lymph nodes and thyroid to also be removed. I would forever breathe through a neck stoma.
This was also followed up with 30 doses of radiotherapy and 2 cycles chemotherapy.
Not something I had planned at 57.
Treatment & Surgery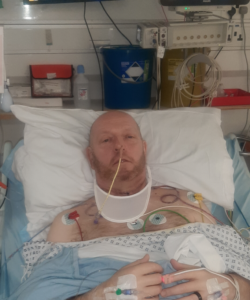 My surgery was 9th January 2023 and lasted 11 hours, followed by a 14 day hospital stay. I had to learn how to breathe, eat, swallow and talk again. Everything we take for granted was a daily challenge.
The hospital and staff were amazing. My surgeon is a wonderful guy who helped me every step of the way. The nurses on the ward were fantastic. I was so well looked after.
I left the hospital on 23rd Jan and rested at home for 3 weeks before I started another 6 weeks of radiotherapy.  I had to travel to central London for my radiotherapy and chemo.
An ambulance picked me up and took me home because of my altered airway – this meant that treatment took up most of my day, every day.
Radiotherapy & Mouth Conditions
Radiotherapy was horrible, barbaric – I swear it almost killed me. I slept most of the time, even in the waiting room, and adding chemo on top of that was extremely unpleasant. I know that it was a means to an end, but wow…I was burnt badly on my neck (it is like getting the worst sunburn every day over and over). On top of the burning, I got a terrible dry mouth with painful sores, and swallowing gets harder and harder. The stoma was becoming a major issue with the burning and swelling. The mouth ulcers and dry mouth really get you down, and ice cream smoothies were all I could eat. The pain was unbearable.
I did not get much help for this – I was given some cream and a mouth spray that did not do much, and to be honest I felt like I was being a problem asking for something else. That was until I discovered (as a gift by The Swallows charity) GelX Oral Spray.
Wow, just wow, this really helped me. It was unbelievable to have a product that actually works and helps. I sprayed three times a day directly onto the cuts and sores in my mouth and it really helped me to recover much quicker and return to a normal(ish) life.
I finished treatment 6 months ago and I am trying to get on with life the best I can. Of course, living with a stoma, lack of sleep, difficulty eating and swallowing is not great, but I am still here.
I have recently had a PET scan and show no evidence of disease, which is fantastic. I understand I am at a high risk around 82% of contracting cancer again but, for now we will carry on!
Download Resource